"While his future isn't entirely certain.....for now Tim is ready to climb."
If there is one thing Firefighters know all too well, is that nothing in life is a given. Each day is a gift. Tim, of Kingsley Fire in Oregon lives this both on and off duty. We are honored to have him climb with us again in 2017.
---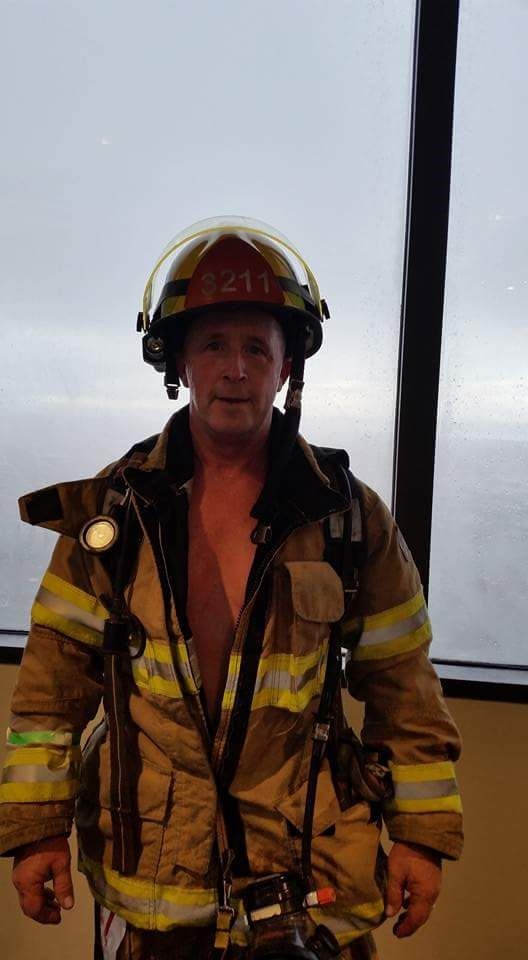 Written By: Emily Muirhead, LLS Campaign Assistant
Tim Vanleeuwen
While mountain biking in Utah back in September 2016, Tim Vanleeuwen ended up crashing his bike and having to make a trip to the hospital for 10 stitches. After he was sent back to work at the Kingsley Field Fire Department in Oregon, he was soon experiencing double vision that he thought was related to the crash.
Upon returning to the ER to determine the cause, doctors told Tim he had a brain tumor and would need surgery to remove it. It wasn't until after he endured this procedure and more tests were ran in October that it was shockingly revealed he actually had blood cancer. Multiple myeloma to be exact, and was started on radiation this past December.
He admits it took a couple months for him to digest what was happening. At first, he didn't even believe the doctor when he found out his diagnosis. But this disbelief eventually turned into a sense of determination to always have a set plan in place for a worst case scenario.
As a father of two 17-year-old twin boys and a 22-year-old daughter, Tim is a family man who has now truly learned the importance of preparing for the worst, but also hoping for the best.
Suddenly minute details like making sure his wife had the code to the safe in their home in case he wouldn't be around any longer became paramount. His biggest piece of advice? If you're healthy now, make sure to have your affairs in order so you don't leave your family hanging.
His department has even taken initiative to put together an informational packet to make sure these types of details are compiled in one place in case there is a death in the line of duty. For Tim and his fellow firefighters, first and foremost it's about ensuring that everyone is taken care of.
But this goes both ways, and he admits that as someone who is accustomed to being the one to provide assistance to others, it can be strange and uncomfortable to now be the one getting help from other people. In order to keep on top of his treatment sessions including procedures like a bone marrow transplant, Tim often has to commute to the Oregon Health and Science University, meaning he's had to cut his work schedule down to only one rotation at the firehouse. For a man who has wanted to be a firefighter since he was a little boy, this has undoubtedly been a tough transition.
"It's been pretty awful not being able to fully do my job as a firefighter," Tim said.
While growing up, he used to play firefighter with his cousin, started volunteering for real in 1996, got hired full-time eight years ago, and has now spent the past 20 in the fire service fully dedicated to his work. For him, being a firefighter means finding a balance between the undeniable adrenaline of being a first responder, but also the giving nature of this line of work.
His generous and empathetic spirit doesn't stop at fighting fires and saving lives. Tim and his wife have jointly coached a Special Olympics softball team for the past six years. He works as a coach on a few nights a week for 10 weeks at time, and then takes his team to compete at regional and state levels. After years of watching his softball stars grow, what he loves most is the unspoiled camaraderie the players exude. He says there's never any animosity between players. Instead, it's all about helping each other up when they fall down, and lots and lots of high-fiving.
While he appreciates the lack of competition from his softball team participants, he can't deny that competition is what he loves about the Scott Firefighter Stairclimb. He first joined the event in 2016, because after seeing other men in his department participate, he figured he needed to get in on the climbing before he got too old. He's excited to return in 2017 to join in on the atmosphere of brotherhood and bonding, which he calls a phenomenal experience. In fact, he's proud to say that last year he beat out a 21-year-old firefighter in his probationary period from his department by nine seconds. Looks like Tim isn't so old after all.
While his future isn't entirely certain, and there may be a possibility of a stem cell transplant to come, for now Tim is ready to fundraise, to climb, and to be the firefighter that he's always been meant to be.
---